In my last post, I pointed out that when we talk amongst ourselves about stuttering problems, it is too easy to say, "I stutter", or, "I stammer",or, "he is a person who stutters or stammers", and we expect that the other person knows exactly what you are talking about regarding stuttering severity, but I asked the question, do we know what is being talked about, or, do we just make assumptions based on our own experience of what stuttering or stammering is, from what we have seen or experienced ourselves. I argued that it is the later, and that unless we use some other universally understood descriptive terminology when we describe and comment about the stutter, then we have no idea what is being described.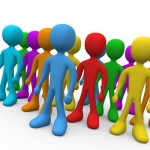 What I am trying to say here is that, the term "stuttering" is so broad, that it cannot, in isolation, be used to describe the many different forms of speech dysfluency. For example, I can say that John is a stutterer, and Sam is a stutterer, and Bill and Tom are also stutterers, but are they all experiencing the same phenomenon? The answer is likely to be, no! Stuttering has both a physical component and psychological component, and there is great variation in the degree of both, from one person to the next.

On the physical side, John may have some repetitions in his speech, but no blocking. On the psychological side, he may not give any thought to the fact that he has a level of speech dysfluency, and does not avoid any speaking situations because of it. On the other hand, Sam may have severe and regular speech blocks. He may avoid some words, and substitute others. His stuttering may completely control all aspects of how he lives his life, both professionally and socially. We then come to Bill, and he may have what some see as a pronounced speech dysfluency, with a combination of repetitions, prolongations and some blocking, however, on the psychological side, Sam may not be concerned about it to the same degree as Bill, in that it does not effect the way he lives his life in any way. Finally, we have Tom, and he may have what appears, to the outside world, to have no problem with speech fluency at all, yet he has a great fear of the possibility of blocking and stuttering, and as a result, he is highly anxious about that possibility, so lives in fear of it happening at some time and what that would mean to him. All these personalities would say that they have a stutter, or are a person who stutters, and seek treatment for stuttering, but if they were all to hear that the other was a stutterer, they could only assume, in absence of any other descriptive terminology, that the others all experienced stuttering in the same way as themself. This becomes a problem when we are talking about stuttering in regard to how it has affected us in various areas of our life and, how successful treatments have been for us and so on.

So what is the answer? Well the speech pathology profession has recognised that the degree of stuttering needs to be understood when offering to treat a person who stutters, and as a result certain questionnaires have been developed to determine the severity of the stuttering, from both a physical and psychological perspective, and two of the most widely used questionnaires are the OASES test and the WASSP test, however, these are only useful for a full academic analysis of the problem rather than for a quick and self evident assessment method to be used in casual conversation, where understanding of degree is necessary.

So what is a quick and self evident method? Well there are basically two main aspects to stuttering severity. The first is the severity of the physical degree of speech dysfluency, and the second is the severity of the psychological affectation on the individual, as a result of the speech dysfluency. Now in the stuttering support group that I coordinate, and the circles that I move in, we have for many years, used what others now call, the "Stuttering Jack Scale". We give the physical symptoms a quick rating of 1 to 5, where 1 is mild repetitive stuttering and/or mild speech blocking, while 5 is severe and frequent blocking. 2, 3 & 4 are degrees in between. Now in the same way, we also give the psychological symptoms a quick rating of 1 to 5, where 1 is where the person sees the speech dysfluency as more of an irritation, or inconvenience, than a major issue, while the 5, is associated with social phobia, panic attacks and extreme anxiety surrounding the physical symptoms.

So how do we use this? Well, when talking about a person who stutters, we would say, John is a "1,1 Stutterer", or Sam is a "5,5 Stutterer". The first number refers to the degree of physical symptom, while the second number refers to the degree of psychological affectation. We might describe Bill as a "5,1 Stutterer", while Tom would be a "1,5 Stutterer". We might choose to tone our simple self assessments up or down a little, depending on how many other people we have seen or met who stutter, in saying, I am a "4,2 Stutterer", and so on. The people that I associate with, and talk to, all clearly understand that when I say, "yes, but he is a 1,1 Stutterer", we all instantly know that the person has a mild stutter, but does not let stuttering worry him, and sees it as a an inconvenience or irritation. We say, if that is the case then he may do better with a CBT or a Neurosemantic type of treatment, as opposed to an intensive fluency shaping approach. If someone says, "no, he is a "5,5 Stutterer", then we know  that this stutterer has a real problem, and that would instantly and simply explain a lot of his behaviour. We would instantly start thinking about other treatments that would be different to what the, "1,1 Stutterer", might be better directed to, and so on. All this is better than saying, "I am a stutterer, but I just get on with my life, why don't you", or, "I am a stutterer and I can't find any treatment to help me, and my life is just a mess, why isn't yours". Using the "Stuttering Jack Scale", one might be better described as, a "3,1 Stutterer", and the other better described as, a "5,4 Stutterer".

Now my little method does not replace the full clinical assessment methods mentioned above, that should be undertaken before any treatment is administered to a person who stutters, and it is not trying to usurp the use of more technical and professional terms. It is just a, "rough and ready", way of clarifying to another person what is being referred to, when talking about an individual, who has a speech dysfluency problem. It can be used by professional and consumer alike as a simple universal terminology to put the other person, "in the ball park", with reference to what is being described as, stuttering, in different individuals.

Do I need a clearer description of what is referenced by 1, 2, 3, and 5 in both groupings? Well maybe yes, but that would only serve to confuse and be a source of debate. One should be clear what a 1 is compared to a 5, in each classification, and as for what is a 2, 3 or a 4, really doesn't matter, as the required message has been passed along to a sufficient degree, for the purposes of casual conversation, needing reference to degree of stuttering.

So do you know any "5,5,stutterers"? How about a "1,5 stutterer", (who falls into the category of a "covert"). Are you a "1,1 stutterer"? Then maybe all you need to do is reshape the world that you see before you, do a bit of disclosure, and some voluntary stuttering, and get on with your life. If you are a "5,5 stutterer", then you need to subscribe to my RSS feed because we have a lot more to share with each other on this blog. For I am a "0,0 stutterer, and, a 5,5 stutterer", all rolled into one, but that is the subject for another blog post here. If you plan to read all my blogs, or follow me on Twitter, Facebook etc, please become familiar with this simple system so that our conversations are more meaningful. In the mean time, I invite you to comment on this post as to the soundness of the "Stuttering Jack Scale", and where you believe you sit on the scale.
Comments: